While the snow is falling heavily outside the window, it is a good time to get ToyTorture.com out of its hibernation. I decided to start with an heavily requested piece: The unboxing of the ElectraStim's new leading power box AXIS. If you are interested in how the box performs in play, read my impression of the beta test unit here. The guys from ElectraStim informed me that they are currently fine-tuning the first update which will incorporate some input I gave them over my time with the beta unite. Once it is released, I will write an update article how the box improved. But now, in medias res of the unboxing…
What sets AXIS apart from all other power boxes is the exterior packing. While a sleeve around the carrying case has been the industry standard (except for the unmarked corrugated fiberboard boxes ErosTek ships their power boxes in…) for years, ElectraStim decided to go with a full cardboard box with a glossy full color print. Since the full potential of AXIS does not really jump out, having more space for texts and pictures is a good thing. Though as a marketing professional, I would have wished for two or three enticing pictures on the back instead of just a dry yet information dense text.
Opening up the outer packaging reveals a nice surprise: Instead of going for the already mentioned "industry standard" hard plastic case they went for a soft shell nylon zipper case. I like this innovation because I can store a little bit "crushable" case better in my play luggage than stiff one. Also, it protects the unit inside better.
Inside, the layout is very traditional: The bottom half is filled with foam which features a cut-out for the power box itself and a larger one for accessories and cables. Inside the lid is a zipper closed mesh pocket for smaller accessories.
What is noticeable compared to other power boxes is the lack of a battery. This is because AXIS has a build-in one which can be charged using a standard micro-USB cable. Through this design decision, the power box itself measured only 112x70x23mm and weighs just 116g play-ready.
How much punch is packed in a really small sizes becomes apparent when placing AXIS amongst its "relatives": It is only slightly larger and heavier than the Flick Duo which also features a build-in battery and considerably smaller and handier than the equally powerful but less feature-heavy and 9V battery-powered SensaVox.
AIXS comes with a nifty belt clips which is a nifty accessory when playing with the movement sensor or accelerometer.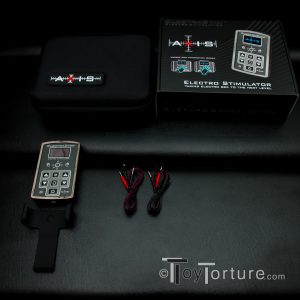 Since AXIS is a dual-channel power box, it comes with two 120cm long 2mm socket-to-2mm pin leads. When ElectraStim contacted me, asking me if I would be interested in beta-testing something new and exciting I got my hopes up that they would take the big leap and change their lead system to the "industry standard" 3.5mm jack-to-4mm banana plug but I guess once you design your entire electrode ecosystem around a standard you cannot change it anymore so I will continue to carry adapters around with me.
Like almost every power box, you get a set of pad electrodes which is a nice to have for play right out of the box.
Since AXIS has quite sophisticated audio processing, the unit comes with a 100cm high quality line-in-cable which features gold-plated 3.5mm jacks for perfect transmission.
I have to be honest, I am a bit amused when I found a 55cm long micro USB cable inside the box. Yes, it is essential for charging the power box (But where is the USB charger?) and for updating it, but I can hardly imagine a household without a single micro-USB cable. Maybe a pure Apple fanboy household.
Speaking of updates, the small metal pin is needed to press the hardware button to initiate the update process when AXIS is connected to the computer.
And speaking of the computer: You need a computer to read the full manual. Inside the case is just a little quick-start guide in English, French, German, Dutch and Spanish and the little flyer about how to get the extended 3-year warranty.